Detecting Cosmetic Debt Management Using Benford's Law
Benford's law states that the frequency of first significant digit in certain samples decreases as those digits increase. This law is used in accounting to find rounding behavior. Several studies provided evidence that firms may round up earnings when they are just below reference points denoted by Nx10k. Most studies are focused on earnings variables. Few studies are focused on other accounting variables like sales for example (Jordan & Alii, 2009; Geyer, 2012). No previous study examines accounting variable from balance sheet (excepted earnings of course). The aim of this short paper is to investigate rounding behavior of long term debt. Using a sample of US public companies, we observe that US firms round down the total long term debt considering two cognitive points: Nx10k and (2xN+1)x5x10j (N is an integer between 1 to 9; k is an integer from 1 and j is an integer from 0). In other words, US public firms exercise Cosmetic Debt Management.
La loi de Benford énonce la fréquence d'apparition des chiffres de nombres dans certains échantillons. Cette loi est utilisée en comptabilité afin de détecter des comportements d'arrondi. Plusieurs études empiriques ont montré que les managers avaient tendance à arrondir des résultats positifs lors qu'on est sous un seuil de référence de type Nx10k. La plupart des études se focalisent sur les variables de résultats. Peu d'études examinent d'autres variables comptables tels les ventes par exemple (Jordan et alii, 2009 ; Geyer, 2012). L'objectif de cet article est d'étudier les comportements d'arrondi de la dette à long terme. En utilisant un échantillon de firmes américaines cotées, nous observons que ces firmes arrondissent vers le bas la dette à long terme en considérant deux seuils cognitifs : Nx10k and (2xN+1)x5x10j (N est un entier entre 1 et 9 ; k est un entier à partir de 0 et j est un entier à partir de 0). En d'autres termes, les firmes américaines cotées ont une politique de cosmétique comptable de la dette à long terme.
Fichier principal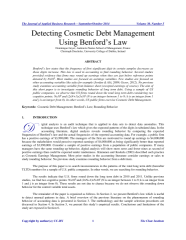 Geyer_Drechler_JABR_2014.pdf (296.89 Ko)
Télécharger le fichier
Origin : Publisher files allowed on an open archive