Cultural diversity at the top: Does it increase innovation and firm performance?
The article focuses on cultural diversity and whether it has economic value. Though it is undisputed that cultural diversity within a country increases entrepreneurial behaviour the question that remains is whether this heightened entrepreneurial activity results in greater economic achievements. The article reports on a study that was carried out within the London area that presented an ideal setting given that London is a "super-diverse" city with intense economic activity. The results showed that ethnic diversity in the team of owners and partners of firms was indeed associated with greater innovativeness. This was in line with the view that diversity brings a variety of perspectives, skills and ways of thinking that in turn are translated into greater novelty in products or services and ways of performing tasks. On the other hand, however, ethnic diversity at the top did not translate into success at bringing innovations to the market, neither to revenue growth. Neither did the idea that diversity would be especially beneficial for innovation in knowledge-intensive industries find support. Finally, the data suggested that immigrants become entrepreneurs by choice rather than due to lack of better alternatives. The findings of the study raise the serious question of why the greater innovativeness that diversity brings does not generally translate into market and economic success, which opens new avenues for future research.
L'article est consacré à la diversité culturelle, et de quelle façon elle revêt une valeur économique. Bien qu'il n'est pas contesté que la diversité culturelle au sein d'un pays favorise le comportement entrepreneurial, la question qui demeure est de savoir si cet accroissement de l'activité entrepreneuriale entraîne de meilleurs résultats économiques. L'article décrit une étude menée dans la région de Londres, ce qui représente un cadre idéal étant donné "l'hyper-diversité" de Londres, et son intense activité économique. Les résultats confirment que la diversité ethnique des propriétaires et des partenaires des entreprises favorise une meilleure capacité d'innovation. Cela renforce l'idée que la diversité apporte une variété de points de vue, des compétences et des façons de penser qui sont à leur tour présentes dans l'innovation des produits, des services et dans la façon d'exécuter différentes tâches. En revanche, cette diversité ethnique ne se traduit pas par la capacité à imposer ces innovations sur les marchés, ni par la croissance du chiffre d'affaires. L'idée que la diversité ethnique serait particulièrement bénéfique pour l'innovation dans les industries du savoir et de la connaissance est également battue en brèche. Enfin, les données suggèrent que les immigrants deviennent entrepreneurs par choix, plutôt que par manque de meilleures alternatives. Les résultats de l'étude soulèvent la question essentielle de savoir pourquoi l'innovation dûe à la diversité ne se traduit généralement pas par une forte présence sur les marchés et le succès économique. Cette question ouvre de nouvelles voies pour la recherche future.
Fichier principal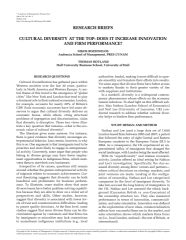 AMP_2014_28-2-Bozionelos_Hoyland.pdf (423.14 Ko)
Télécharger le fichier
Origin : Publisher files allowed on an open archive