Getting back into work: What helps and what hinders?
The article focuses on factors that affect individuals' effort to regain their employment. Despite the importance of getting people back to work, we do not yet know as much about factors that hinder such efforts. The research that is described in this article looked at two such factors: whether unemployed people consider themselves fit enough for work (regardless of their actual health), and procrastination tendencies, which are especially likely with tasks that are aversive (e.g., difficult, tedious) but nonetheless critical for achieving a valued outcome, such as finding employment. In addition, the study looked at the ability of employment counselors to evaluate unemployed individuals' probabilities of re-entering paid work. Measurements were taken at three different points in time with 236 job seekers. The findings showed that counsellors' assessments of job seekers' job search intensity and procrastination were able to predict reasonably well whether these job seekers would find work later. On the other hand, job seekers own evaluations of their job search intensity and procrastination behavior could not reliably forecast whether they would manage to find employment. In addition, counsellors were able to predict fairly well from the outset which job seekers would find work later. The findings also showed that job seekers' attitudes (what they believed about the search itself, the pressure they felt from significant others to find work, and their confidence in their ability to effectively search a job) could predict the intensity of their involvement in job search. These results were very much supportive of the capacity of counsellors to add substantial value in the reemployment process. In addition, they revealed the importance of taking into account factors that deter the reemployment process, such as self-perceptions of one's health condition and procrastination.
L'article se concentre sur les facteurs qui influent sur l'effort des individus à retrouver un emploi. Malgré l'importance de remettre les gens au travail, l'état des connaissances reste faible sur les facteurs qui entravent ces efforts. La recherche décrite dans cet article considère deux de ces facteurs : d'une part les chômeurs se considèrent-ils suffisamment en forme pour travailler (quel que soit leur état de santé réel), et d'autre part, quelles sont leurs tendances à la procrastination, surtout pour des tâches rebutantes (difficiles, pénibles) mais néanmoins essentielles pour parvenir à trouver un emploi. En outre, l'étude porte sur la capacité des conseillers en emploi à évaluer les probabilités, pour les chômeurs, de réintégrer un emploi rémunéré. Les mesures ont été prises à trois moments différents, en suivant 236 demandeurs d'emploi. Les résultats révèlent le point suivant : les évaluations faites par les conseillers en emploi, sur l'intensité de recherche d'emploi et la procrastination, sont efficaces pour prévoir raisonnablement si oui ou non ces demandeurs d'emploi retrouveront un travail à terme. En revanche, l'auto-évaluation des demandeurs d'emploi quant à l'intensité de leur recherche d'emploi et leur tendance à la procrastination, ne révèle pas de façon fiable leur capacité à trouver un emploi. En outre, les conseillers peuvent prédire assez rapidement dès le début si les demandeurs d'emploi retrouveront un travail plus tard. Les résultats ont également montré que les attitudes des demandeurs d'emploi (l'idée qu'ils se font de la recherche d'emploi, la pression qu'ils ressentent de personnes importantes pour eux quant à leur capacité à trouver du travail, et leur confiance en eux dans leur capacité à rechercher efficacement un emploi), ces attitudes déterminent l'intensité de leur implication dans la recherche d'emploi. Ces résultats sont très utiles pour les conseillers et leur permet d'améliorer le processus de retour à l'emploi. En outre, cette étude révèle la nécessité de prendre en compte des facteurs qui dissuadent le processus de retour à l'emploi, comme par exemple la perception que l'on a de sa santé, ainsi que la procrastination.
Fichier principal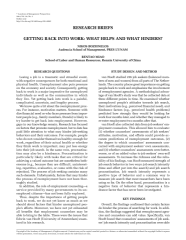 AMP_2014_28-3-Bozionelos_Miao.pdf (420.1 Ko)
Télécharger le fichier
Origin : Publisher files allowed on an open archive