Matérialité, communication et organisation : La vidéo-filature d'une idée
In order to correct how we tend to blackbox materiality in organizational communication, we should not simply remind ourselves of the existence of a so called 'material world' and its effects of imbrication or entanglement with a so-called 'social world'. On the contrary, we argue that we should take into account the material dimension of everything that enables a plurality of beings to exist, whether these beings are humans, texts, conversations, technologies or organizations. Through the videoshadowing of the birth, evolution and concretization of an idea during an annual event called Museomix, we show that the existence of any being pass through a plethora of mediators, intermediaries, medias, materializers that express, materialize and articulate with each other. Far from setting aside the question of materiality, the constitutive approach to communication we advocate invites us to identify all the effects of materialization by which beings with variable ontologies come to exist more or less in communication.
S'il y a un impensé de la matérialité qu'il faudrait corriger en communication organisationnelle, ce n'est pas en rappelant l'existence d'un monde dit matériel dont il s'agirait d'étudier les effets d'imbrication ou d'enchevêtrement avec un autre monde dit social. Il s'agirait, au contraire, de prendre en compte la dimension matérielle de tout ce qui permet à une pluralité d'êtres d'exister, que ces êtres soient des humains, des textes, des conversations, des technologies ou encore des organisations. Comme nous le démontrons empiriquement à travers la vidéo filature de la naissance, de l'évolution et de la concrétisation d'une idée tout au long d'un événement annuel, intitulé Museomix, l'existence de tout être passe par des médiateurs, des intermédiaires, des médias, des matérialiseurs, qui s'entre-expriment, s'entre-matérialisent, s'entre-articulent les uns les autres. Loin d'évacuer la question de la matérialité, l'approche constitutive de la communication que nous défendons nous invite donc à repérer tous ces effets de matérialisation par lesquels des êtres aux ontologies variables se mettent à exister plus ou moins dans et par la communication.
Fichier principal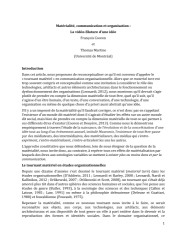 Matérialité, communication et organisation Cooren et Martine 2016.pdf (155.76 Ko)
Télécharger le fichier
Origin : Files produced by the author(s)