Faire cohabiter des mondes culinaires : enjeux communicationnels des portraits de cuisiniers du Refugee Food Festival
Refugee Food Festival is a culinary event created in 2016. Endorsed by French chefs, it seeks to promote refugee cooks and encourage their professional integration. Available on their website, a section "Les Chefs" displays a threefold goal: feature the participants' singular personalities, characterize their culinary practices and open up a space of encounter between French gastronomy and "culinary exoticism" (Régnier, 2004). The changes in identity materialized by the visual portrait and narration of the participants offer a unique angle for observing the semio-discursive construction process of a "common culinary space" stretched between "domestication" and "foreignization" (Stano et Boutaud, 2015). The study highlights that, among other processes, the uniqueness of the culinary practice and the figure of the mother legitimize the professional (re) conversion of refugees into «chefs». Also, merging gastronomies — as for the dishes prepared and the desirable places where they are elaborated — is a central ambition that organizes their de-conflictualized convergence.
Le Refugee Food Festival-événement culinaire itinérant créé en 2016, parrainé par de grands chefs français-cherche à valoriser les cuisiniers réfugiés et favoriser leur insertion professionnelle. Les profils développés sous la rubrique « Les Chefs » du site web veulent : rendre visibles et lisibles des personnalités singulières, caractériser leurs pratiques culinaires et ouvrir sémiotiquement un espace de rencontre entre gastronomie française et « exotisme culinaire » (Régnier, 2004). Les remaniements identitaires que matérialise la mise en portrait photographique et narratif des participants offrent un angle singulier d'observation des processus de construction sémio-discursive d'un « espace culinaire commun » tendu entre « domestication » et « foreignisation » (Stano et Boutaud, 2015). L'analyse montre que la singularisation de la pratique culinaire et la figure de la mère, entre autres procédés symboliques, légitiment la (re)conversion professionnelle des réfugiés en « chefs ». L'ambition de fusion tangible des gastronomies organise une convergence dé-conflictualisée des mets et des lieux désirables d'exercice de la pratique culinaire.
Fichier principal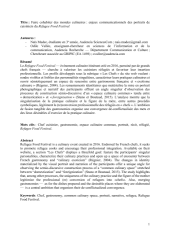 naismadec-odilevallee - Faire cohabiter des mondes culinaires.pdf (322.98 Ko)
Télécharger le fichier
Origin : Files produced by the author(s)